Centix offers three mobile apps through which all your work can be carried out anytime and anywhere. With Centix Mobile you can inspect online at your customer and also inspect offline in industry and offshore. With Centix Logistics you manage the entire process from order to picking. The Centix Work Order app is mainly for the field staff to support the flow from planning to processing.
The three apps are described in detail below and are available for both IOS and Android.
Don't worry, with Centix Mobile your employees can continue to perform inspections. When the internet is available again, the data is transferred to the Cloud.
With Centix Mobile you can maintain assets such as tools, equipment, machines and installations, for example by performing maintenance and inspections. It is also possible to move the assets and request move history. It is the App that can be used by your entire organization and your customers.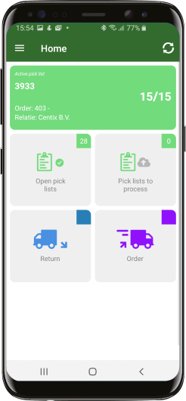 The Logistics app is part of the order modules and is used by warehouse, yard and transport employees. The App supports creating orders, order picking, returning equipment and materials and inspecting and registering repair or cleaning actions.
With the Centix Work Order app you manage the entire flow from planning to processing using the work orders. With the help of this app, the mechanic or inspector has a complete tool to organize his work and to record hours and material use.