Asset management software from Centix
Asset management software from Centix has a standard package: Centix Online Basis. This package offers many options and standard formats per industry. Do you still need extra functions? With our extra modules and apps, a lot is possible.
Using standardized partner plug-ins, it is possible to integrate Centix seamlessly with other applications. Still want to create your customized integration? Then you have access to our open API, or you can have your custom plug-in made.
Our entry-level configuration has extensive options and offers a complete package to offer a solution for every industry. There is no limitation on the number of objects or users, and contains one concurrent edit user. Check out what Centix Online Basis has to offer below!
Included in several modules
Centix offers three mobile apps with which all your work can be carried out anytime and anywhere. With
Centix Mobile App
you can inspect both online at your customer and offline in the industry and offshore. With the
Centix Logistics App
you manage the entire process from orders, picking, direct counter issuance to collection and return. The
Centix Work Order App
is for field service employees or the workshop to support the process from planning, registration to handling.
Onze instapconfiguratie heeft uitgebreide mogelijkheden en biedt een compleet pakket om voor elke uiteenlopende branche een oplossing te bieden. Er zit geen beperkingen op het aantal objecten of gebruikers, én bevat één gelijktijdige wijziggebruiker.
Bekijk onderstaand wat Centix Online Basis te bieden heeft!
Inbegrepen bij diverse modules.
Centix biedt een drietal mobiele apps waardoor al uw werkzaamheden altijd en overal uitgevoerd kunnen worden. Met Centix Mobile App kunt u van online inspecteren bij uw klant tot het offline inspecteren in de industrie en offshore. Met de Centix Logistics App beheert u het gehele proces van orders, picken, directe balie uitgifte tot inname- en retourneren. De Centix Werkbon App is voor de buitendienst medewerkers of werkplaats om het proces van inplannen, registratie tot afhandelen te ondersteunen. 
Aanvullend op uw Centix Online
Our entry-level configuration with extensive capabilities and unlimited storage.
Below are the partner plug-ins that are used the most. A partner link is made together with the relevant partner and there are agreements about keeping the link up-to-date. Click on the button for a complete overview.

Centix Online works according to the principle of concurrent users. At Centix Online Basic, you have one simultaneous 'edit' user and ten simultaneous 'view' users. Centix does not recognize the user as a concurrent user until they are logged in. Additional concurrent edit users can be purchased individually.
We generate a report four times a year regarding the concurrency of your users. If there are regular overruns, we will make you an offer to increase the number of licenses.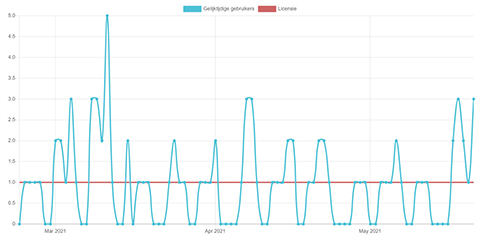 Get a demonstration of our software and see what Centix Online can do for your organization.
Centix Online in five categories
One of the basic functionalities in Centix is managing objects to and from locations and registering and performing maintenance and inspections. You can manage equipment, tools, machines and vehicles, installations, parts and consumables. For each object there is a bill-of-material where the user, depending on the rights, can view certain information. With Centix you can easily 'move' the objects using various functionalities in the Web or with mobile Apps and all changes are logged.
All available locations are defined in Centix. You can define the types of location yourself, such as a warehouse, yard, vehicle, vessel, employee, project, department, etc. Objects currently present at a location are placed on that location in Centix. These are objects in someone's work bus, in stock, in the warehouse, or present in a certain department. If the object changes location, record this in Centix. It is also possible to link locations to each other in order to create a hierarchical structure of, for example, a building. In the image on the right you see a location bill-of-material with data, objects present, documentation and even an option to submit a service request for a location.
Relationship

management - CRM
Relations in Centix are, for example, suppliers, Ltd.'s within a group, business units within an organization, or your customers whose data is stored in your configuration. You record details about this relation in Centix: from basic data to financial data. To define the correct owner of created objects and locations, they are assigned to the correct relation. You also register persons and users in detail with Centix and link them to a relationship. Centix's extensive rights model allows you to determine what a relationship or person can see and what he/she can do.
Managing documents is a standard functionality in Centix Online. This includes certificates and reports, but also user manuals, (technical) drawings, safety regulations, photos, permits, general terms and conditions, et cetera. These documents can be saved in different languages and revisions and they can be linked to objects, locations, relations or maintenance and inspection plans. It is possible to determine for each document type who may or may not view it. With a QR code sticker on an object, a user can easily request the latest certificate or user manual. As a result, everyone always and everywhere has the right information.
Maintenance and
inspections
In addition to resource management, Centix offers extensive support for maintenance and to manage inspections, deliveries and inspections. In Centix you can link one or more maintenance and inspection plans to an object. This has a self-defined term, but also contains a checklist with questions or tasks that must be checked off during maintenance or inspection. We have standard checklists for the most common inspections. But these checklists are also quite quick and easy to create yourself. Carrying out and completing such a checklist can be done with the Centix Mobile App. After completion, a certificate is generated immediately.
Companies working with Centix
Frequently Asked Questions
Still not sure about purchasing Centix Online? Here is an overview of the most frequently asked questions. Is your question not listed? Then contact us!