Control the order flows in your organization with our order module. Manage and organize the incoming rental and sales orders and then create a pick list. Pick the products with the Centix Logistics App and prepare the order. But the module also offers numerous options after delivery, for example to support the return process. From submitting a return request to the immediate return of equipment or tools at the warehouse counter. The module offers extensive options for the most diverse target groups. Depending on your module composition, there are options for composite products, buy-back scheme, alternatives, quick selections for accessories, consumables and more.
All fields are clearly shown in the detail. For example, it is possible to indicate to whom and where delivery should be made, but it is also possible to specify an expected return date and, for example, a scoring opportunity for a quote request.
On the left you can navigate to the functionalities below by means of tabs. You can also easily navigate from an order to, among other things, the pick lists and the packing slips that belong to this order. This way you can easily retrieve all information from one screen.
Fill in the delivery location, administration, project and cost center to complete the order.
The required products can be charged to a project or invoiced to a third party.
It is possible to choose the contact person, payment method and condition per order. Is this set up for the relationship? Then these are automatically pre-filled.
Record any internal and external notes on the order. These can later be shown on the pick list when picking an order via the Logistics App.
Efficient navigation, clear information and quick input through smart functionalities, that is what Centix offers the back office employee! A front office is available for input by, for example, mechanics and project managers.
By using the order templates, for example, entire equipment lists for a new employee or specific job profile can be added. During the entry, you will be automatically notified of details such as certain additional supplies associated with the entered product. With functions such as 'import rented objects' complete rental orders can be placed from one project to another.
There may also be products where additional activities such as transport or installation are required. For these types of products, you can create workflow items by pressing the button workflow items.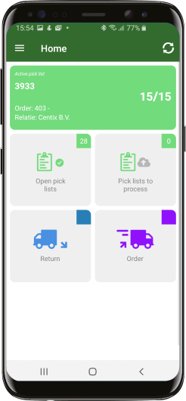 The Logistics app is part of the
order modules
and is used by warehouse, yard and transport employees. The App supports creating orders, order picking, returning equipment and materials and inspecting and registering repair or cleaning actions.
Also check out the other
modules