Building management and technical service with Centix
Maintenance on or in your building is easy to manage with Centix. Retrieving the right information quickly and easily. But not only planned maintenance, but also inspections on or in your building are essential for a safe working environment.
Building management from technical services at production companies or industry to facility managers at hospitals or service companies. This can be easily done with the Centix Web or one of the Centix apps.
Building management, or Facility Management, has a technical character in Centix. Within Centix it is possible to record the entire building structure in layers. In this way you can record your assets in more detail. In Centix it is possible to record the complete inventory, location and/or person. Maintenance and inspections can also be recorded, movements registered, et cetera.
It also applies to building management that it can be done as extensively as necessary with Centix. If an organization has several buildings spread over different locations (national and international), then this can be easily registered in Centix. The layer structure makes it possible to zoom in ever deeper on a building to room level or an item that is in that room. Registration and inspection is very important for several quality standards. By using Centix you immediately meet the set standards.
If you are dealing with movable buildings (containers, units, construction shed), then these can be moved easily and including the inventory to a new location.
Centix is your partner in (technical) asset management
Get a demonstration of our software and see what Centix Online can do for your organization.
Thanks to the flexible structure of the maintenance and inspections, Centix is very versatile. For example, in residential construction, property management and maintenance or in industry.
The role of the technical service in medium and large factories and production companies has changed significantly in recent years. the tasks of the technical service are coordinating, managing and executing. The performance of maintenance work and inspections is either done by your own technical service or is increasingly outsourced to third parties. Centix offers extensive support for both the coordinating and executive target group.
More than ever, automated support is important to be able to fulfill the coordinating and managing role efficiently. Centix has a broad experience in solving maintenance and inspection management issues. From solving and monitoring malfunctions, planning and managing preventive or reactive maintenance to performing inspections.
Maintenance has become very specialized. As a result, the employees of the technical service become more managers and distribution points. Contracts are concluded with suppliers or other parties for the maintenance of the installations or machines and the technical service still has a planning and monitoring task. We also call this Technical Facility Management.
For the employee of the technical service, Centix perfectly meets this new need. By means of a dashboard you have a complete overview of everything that is currently heppening or will be happening soon. View the underlying assets, upcoming maintenance or open work orders per functional location. Centix uses color coding, which gives you quick insight into the status of your installation or machine. Link a maintenance and inspection plan to your object so that you can see by looking at the colors whether maintenance is required in the short term. Whether it has expired and requires maintenance, no maintenance is required in the short term or no maintenance and inspection plan has been set up.
Do you want to report a service or malfunction report quickly and immediately? Ensures that your objects or locations are equipped with a QR code sticker. The user scans the applied QR code sticker on, for example, the installation, in a room or on a piece of equipment, and immediately creates a report. After submission, a 'work order' will be created for you on which you can act. Often used in service organizations, technical services and workshops. Read more…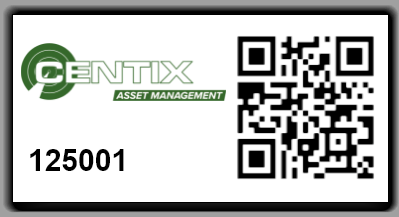 QR code on object or location
Service notification is received
QR code on object or location
Service notification is received
View the steps of a service notification